Summer School 2019 - Nucleic acid chemistry and synthetic biology
The summer school will take place from 28th of July until 2nd of August 2019 and will offer a wide variety of different speakers and topics around the chemistry of nucleic acids.
The course sets the focus on the fascinating chemistry of RNA and DNA and their modified forms. RNA plays multiple different roles in nature and these are further expanded and regulated by about 150 natural chemically modified nucleosides. Synthetic nucleic acids as well as small molecules targeting RNA and DNA structures are explored for diagnostic and therapeutic strategies. Moreover, nucleic acids with new functions are developed in the laboratory, including ribozymes and aptamers for various applications to investigate biological systems.
The lectures will give an overview of recent developments in the field and present exciting new discoveries. Students are also encouraged to present their research projects on posters, and some abstracts will be selected for short talks. The summer school brings together students and teachers to discuss challenges and future directions in nucleic acids chemistry and synthetic biology. It is a great opportunity for networking and the exchange of ideas and experiences. Students at the advanced master level as well as PhD students are encouraged to apply.
Synthesis and analysis of modified nucleosides and nucleic acids
In vitro selection and engineering of functional nucleic acids: aptamers and ribozymes
RNA labeling and imaging
DNA/RNA bioconjugation
Nucleic acid structural biology
Supramolecular nucleic acid architectures
Small molecules targeting nucleic acid structures
Chemical biology of RNA modifications
Genome engineering (CRISPR/Cas)
Therapeutic nucleic acids
Lectures will be held by international experts in the field of nucleic acid chemistry and synthetic biology as well as by local experts from the Julius-Maximilians-University Würzburg.
Chase Beisel, Würzburg
Michal Hocek, Prag
Claudia Höbartner, Würzburg
Caroline Kisker, Würzburg
Christoph Kreutz, Innsbruck
Günter Mayer, Bonn
Ronald Micura, Innsbruck
P. I. Pradeepkumar, Bombay
Jürgen Seibel, Würzburg
Redmond Smyth, Würzburg
S. G. Srivatsan, Pune
Hans-Achim Wagenknecht, Karlsruhe
Additional documents you can find on the Wuecampus platform. The Login credentials will be sent to the registered participants.
The summer school will take place in the rooms and labs of the Institute of Organic Chemistry of the Julius-Maximilians University of Würzburg (JMU). The lectures will be given in the central chemistry building within the "Hörsaal C" lecture hall. The faculty of chemistry and pharmacy is located at the Hubland complex, where many different departments of the JMU can be found.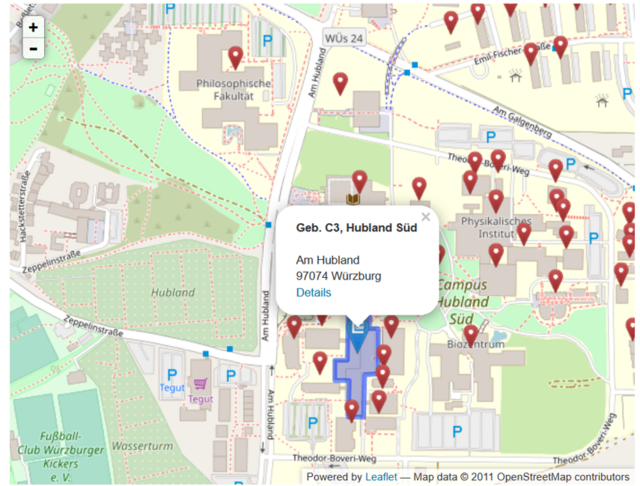 Arrival by Train
Arriving at the main central station in Wuerzburg a few bus lines connect to the Hubland Campus. The lines 14, 114 and 214 are a good choice to come to the Hubland campus.
Arrival by Car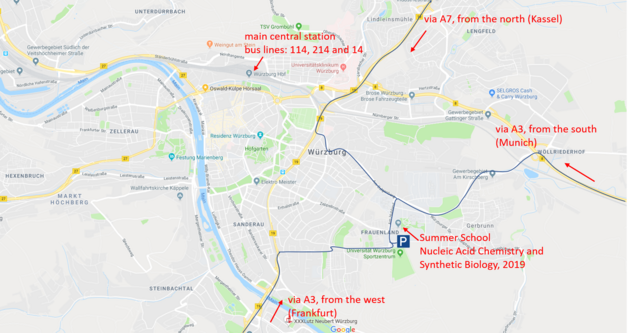 Further information about how to reach us and the summer school location you can also find on our faculty services site.