New Junior Research Group for the Chemistry of Molecular Nanosystems
08/07/2018
Dr. Prince Ravat is among the 13 junior research group leaders who are supported for five years by the University of Würzburg, with a programme called "Excellent Ideas". On 1 August he started his research project at the Institute of Organic Chemistry.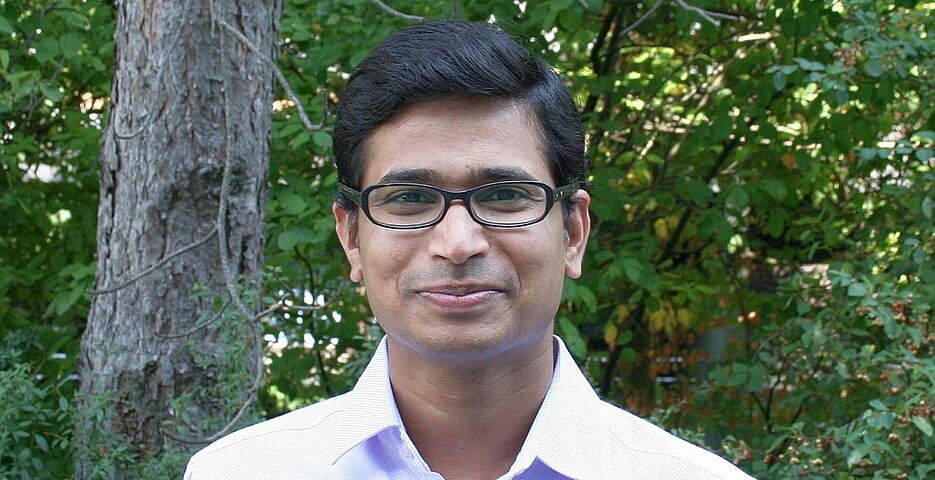 Dr. Prince Ravat, Junior Research Group Leader for the Chemistry of Molecular Nanosystems (photo: M. Moos)
Prince Ravat's research interests lie at the interface of physical organic and materials chemistry starting from the design and synthesis of functional organic molecules with well-defined structures to their applications in organic electronics, in particular spintronic devices.
Building up an Independent Research Group
As the leader of the independent research group "Chemistry of Molecular Nanosystems" at the Institute of Organic Chemistry he will be focused on the bottom-up synthesis of atomically precise structurally well-defined enantiopure chiral nanocarbon materials. He would like to harvest the additional functionalities – namely circular dichroism and circularly polarized luminescence – and physical phenomena such as chirality induced spin selectivity and magnetochiral anisotropy, which chirality brings in these molecules and translate them into further advancement of organic electronics devices.
International Career
Ravat obtained his PhD degree from the Max Planck Institute for Polymer Research, Mainz. His dissertation work deals foremost with the synthesis of organic biradicals and the analysis of their magnetic exchange interactions. Following his interest in open-shell molecules, during his postdoctoral stay at the University of Basel he designed and synthesized helically chiral open-shell polycyclic aromatic hydrocarbons in a quest to develop new multifunctional materials possessing chiroptical and magnetic properties. Upon receiving a JSPS postdoctoral fellowship Ravat joined the University of Tokyo where he moved his attention from the synthesis of functional molecules to self-assembled two-dimensional films composed of fullerene penta-adducts and their applications in electronic devices and electron microscopy.
The Programme "Excellent Ideas"
In order to promote outstanding research, the University of Würzburg has launched the Excellent Ideas programme in each of its Faculties, offering junior researchers the opportunity to kick-start their academic careers in an esteemed research environment. Junior researchers, who have already gained experience in an international environment and have made a contribution to the international research community in their field while in a postdoctoral position, will intensify their research activities and take over more responsibility in the context of a dynamic junior research group. For an initial period of up to 5 years, JMU provides support for a total of 13 junior research groups across the whole range of disciplines covered by the University. For this programme, the university has identified cutting-edge fields of research in all of its faculties. Junior researchers will contribute to the programme with their own innovative approach to research in one of these fields.
Contact
Dr. Prince Ravat, Institute of Organic Chemistry, University of Würzburg, phone +49 931 31-81583, princekumar.ravat@uni-wuerzburg.de