Coronavirus: Intensive Search for Medication
05/20/2020
Chemists and virologists from the University of Würzburg are currently testing substances on a large scale to fight the new coronavirus. Some of them have been proven surprisingly effective.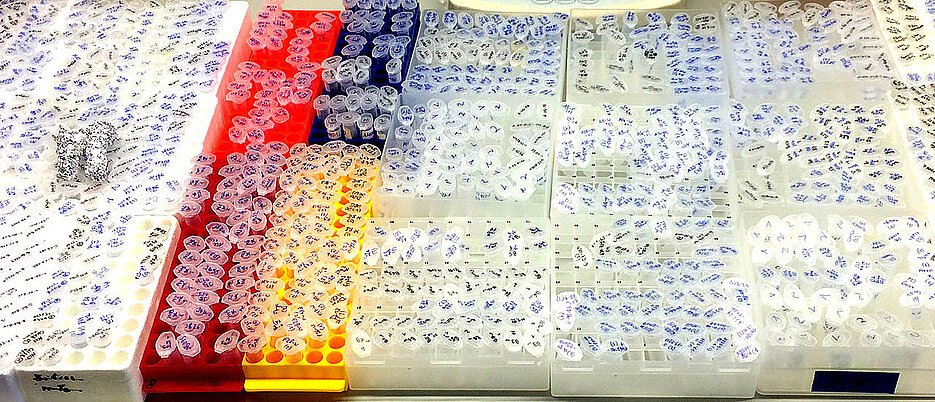 Each vial contains another substance. JMU scientist are testing, whether some of them are potential candidates for fighting the coronavirus (Picture: Daniela Brenner)
Is this the drug the world is waiting for so eagerly? The substance that, given as a drug, keeps the virus with the complicated name Sars-CoV-2 at check? That helps to take the terror out of the global corona pandemic? It cannot be ruled out. Hundreds of tubes, plastic containers and glass bottles are packed tightly in the refrigerators in Jürgen Seibel's laboratory. Each of them contains a different substance, each of which could be the basis for an antiviral agent that fights the coronavirus.
Decades of experience in drug design
Jürgen Seibel is a professor of Organic Chemistry at the Faculty of Chemistry and Pharmacy at the Julius Maximilians University in Würzburg (JMU). Drug design - the development of new drugs - is one of his main research areas. For many years, his working group has been synthesizing substances that serve as the basis for new antibiotics or as medicines for diseases such as measles, meningitis, tuberculosis and gonorrhea. And now also against Covid-19.
"When the initial restrictions were imposed in Germany, it was clear that we had to expand our research to the new corona virus," explains Seibel. While searching for partners who would be able to test the antiviral activity of the substances developed in his laboratory, he quickly found an expert at the Institute of Virology and Immunobiology of the JMU. Professor Jochen Bodem is researching Sars-CoV-2 there and perfectly knows how to carry out the appropriate experiments in cell cultures - of course under strict safety measures.
First successes in cell cultures
Together with his team, Seibel has synthesized more than 1,000 molecules in recent years. These are now being gradually tested in the laboratory. In fact, the scientists have already identified a few substances that have significantly slowed down the viral replication in cell tests - similar to the already approved drug Remdesivir, to which medical professionals give hope. "We were surprised at how effective some of these molecules are," says Seibel.
For Seibel, however, experimenting on cells is not enough: "When we know that a substance has an effect, we take a closer look at it and then try to determine the place where it has its effect. Then we consider whether its structure may be changed in a way that the effect is improved," says Seibel.
Large arsenal of antivirally active substances
There are many ways to prevent the virus from replicating: It starts where the virus docks and enters the human cell and continues with the numerous steps of virus replication inside the cell. And it only ends if the newly formed viruses are removed from the cell. "Our goal is to identify potentially vulnerable spots in all of these steps and then design active agents that interfere there," says the chemist.
"The key has to fit in the lock" is often said when describing the drug that is supposed to put an end to the virus. This approach sounds too scarce to Jürgen Seibel. He wonders whether there are other ways and methods of opening the respective door, and be it just the battering ram that blows up the lock. That is why he does not limit his search to a handful of potential candidates but brings up the entire arsenal of antivirally active substances - from lipids to peptides to sugars.
The next virus is coming
Even if - after just a few weeks of research - some substances from Seibel's laboratory refrigerators have already been proven potentially effective, the scientist is keeping down his optimism. It will take a long time before a remedy is launched that is based on this research. At least he is certain on one thing: "Finding medicine is not a problem. That will work." Whether it originated in a Würzburg laboratory or in another laboratory is of secondary importance to him.
In Seibel's opinion, the fact that scientists worldwide are now working intensively on the new coronavirus is one of the few positive aspects of the pandemic. Not only because the merged knowledge speeds up the process immensely. Seibel is convinced that any progress that is now being made in researching the virus will help prepare humanity well enough for the next pandemic. One thing is for sure, believes Seibel: There will be other dangerous virus infections after Sars-CoV-2.
Contact
Prof. Dr. Jürgen Seibel, Institute of Organic Chemistry, phone: +49 931 31-85326, seibel@chemie.uni-wuerzburg.de
Additional images