Award for Apprentice Marcel Müller
10/06/2016
Once more, the best laboratory apprentice in the region Würzburg-Schweinfurt has been trained at the Faculty of Chemistry and Pharmacy.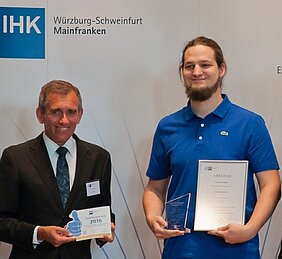 Otto Kirchner, president of the IHK, and Marcel Müller (photo: C. Stadler)
Marcel Müller started his professional training as a chemistry laboratory assistant in September 2013. Due to his great performance during the first two years of training, he was admitted to the final exams already in February 2016, one year earlier than usual. He passed those exams with excellent results. In the end, no other laboratory apprentice did a better job in this year's exams, neither in February nor in July.
On October 5, the president of the Chamber of Industry and Commerce (IHK) awarded Marcel Müller, along with other top examenees. His instructors, however, did not attend that type of ceremony for the first time. Since 2009, Marcel Müller is the fifth apprentice to receive this award. Therefore, the University of Würzburg has been the most successful training place for chemistry laboratory assistants in the region in the past decade.
Fortunately, Marcel Müller decided to stay with us. In March, he joined the group of Prof. Holger Braunschweig (Institute of Inorganic Chemistry).