Wilhelm H. Ruchti Prize for Prince Ravat
02/28/2023
Ravat, junior group leader at the Institute of Organic Chemistry, was awarded the prize, endowed with 5,000 euros, for his outstanding scientific achievements.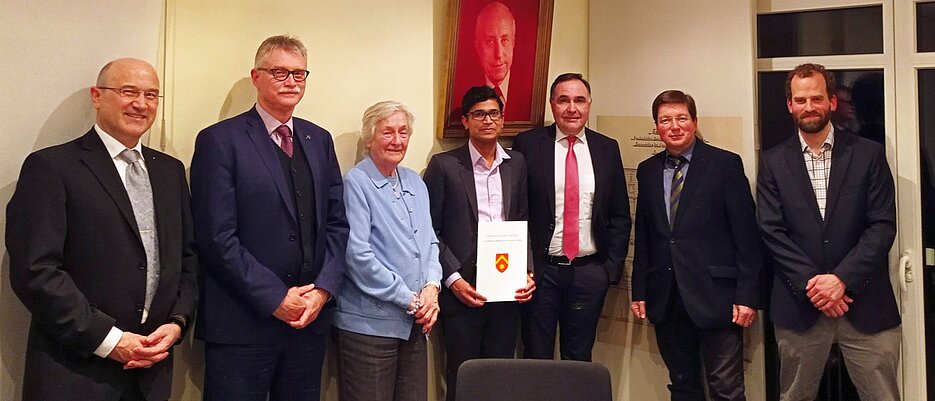 André Illmer (member of the board), Dr. Uwe Klug (member of the advisory board), Gertrud Schrödl (member of the board), Prince Ravat (awardee), Prof. Dr. Czeguhn (chairman), Uwe Thomas (member of the advisory board), Sven Speek (JMU Research Advancement Centre) (photo: private)
Prince Ravat is happy to add the Wilhelm H. Ruchti Prize to his list of honors and awards. The prize was presented to him at the premises of the Wilhelm H. Ruchti Foundation. There, the fully present members of the board and several advisory board members of the foundation congratulated him, including Dr. Uwe Klug in a dual role as advisory board member and chancellor of the university.
The Wilhelm H. Ruchti Prize
The prize was named after the founder of the foundation of the same name, Wilhelm H. Ruchti. Ruchti was a Würzburg entrepreneur who was very attached to his city and especially to its university throughout his life. Since the foundation was established in 2005, the prize has been awarded four times. Dr. Ravat is now the fifth winner.
The Award Winner
Prince Ravat has been conducting research at the University of Würzburg since 2018, funded by the Excellent Ideas program from the very beginning. As an independent Emil Fischer Fellow of the Faculty of Chemistry and Pharmacy, he heads a junior research group with currently five doctoral students. Since 2022, he has also been funded by the EU (ERC Starting Grant) with research funds amounting to 1.5 million euros to develop a new class of chiral organic semiconductors for applications of the next generation of organic electronics.
Links
The Ravat research group @ JMU
Contact
Dr. Prince Ravat, Institut für Organische Chemie, Universität Würzburg, phone +49 931 – 31 81583, princekumar.ravat@uni-wuerzburg.de