Poster Award for Katja Noll
04/24/2023
Katja Noll receives German Liquid Crystal Society(GLCS/ DFKG)'s Young Scientist Award for poster contribution.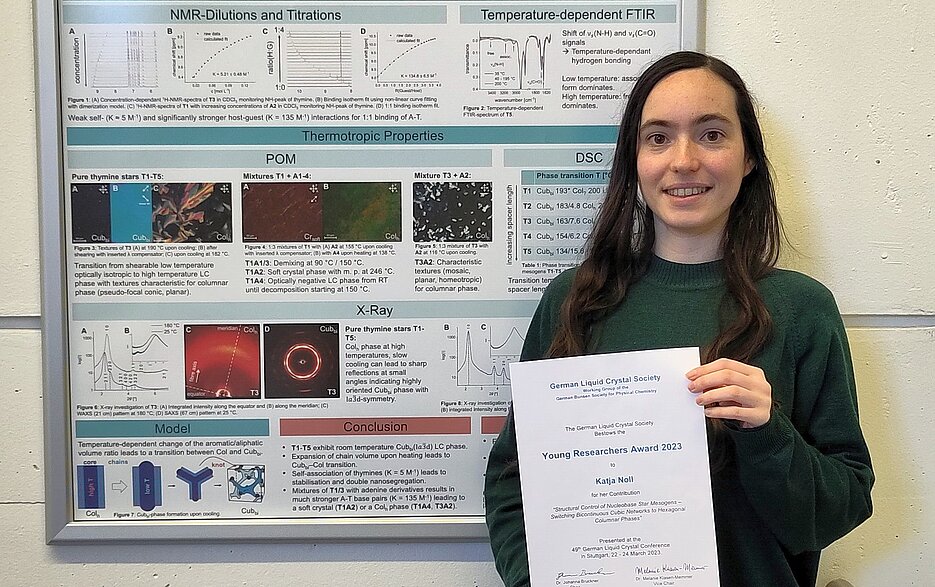 Katja Noll in front of her award-winning poster (photo: private)
Katja Noll, PhD student with Prof. Matthias Lehmann, is working on synthesis and investigation of shape-persistent C3-symmetric star-shaped molecules with connected guest molecules in the free spaces as well as their host-guest interactions.
She presented her findings at the 49th German Liquid Crystal Conference in Stuttgart. Her poster Structural Control of Nucleobase Star Mesogens – Switching Bicontinuous Cubic Networks to Hexagonal Columnar Phases received the 2023 Young Scientist Award for a poster contribution.
The interdisciplinary conference is hosted by the German Liquid Crystal Society (GLCS/ DFKG) and is considered one of the longest-running conference series in the field of liquid crystals worldwide.
Contact
Katja Noll, Institute of Organic Chemistry, University of Würzburg, phone +49 931 31-88769, katja.noll@uni-wuerzburg.de