Poster Prize for Markus Hügel
04/08/2014
Markus Hügel, PhD student at the Institute of Organic Chemistry was awarded a prize for one of two best posters at the 41st German Liquid Crystal Conference in Magdeburg.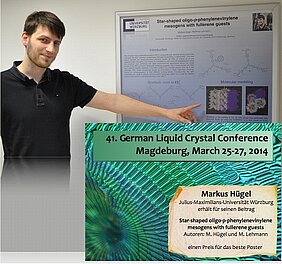 M. Hügel presenting his poster
The awarded poster with the title "Star-shaped oligo-p-phenylenevinylene mesogens with fullerene guests" highlights the exciting self-organisation of a star-shaped molecule forming columnar, helical liquid crystal structures, in which the stilbene chromophores and fullerenes are highly organised. The poster was selected by an independent, distinguished, international committee, constituted of Prof. Jan Lagerwall (Université du Luxembourg) and Prof. Hideo Takezoe (Tokyo Institute of Technology, Japan).
The annual Meeting of the German Liquid Crystal Society (DFKG) gathers national and international researchers from Chemistry, Physics and Biology, who focus their investigations on the Fourth State of Matter, and was organised this year in Magdeburg by Prof. Dr. Ralf Stannarius and PD Dr. Alexey Eremin. The next German Liquid Crystal Conferences are planned to take place 2015 in Stuttgart and 2016 in Würzburg.
Dipl.-Chem. Markus Hügel is a member of Prof. Lehmann's research group since 2011 and already did his diploma thesis in that group.