Peace Prize for two Chemists
12/01/2014
The Gusi Foundation has awarded the Gusi Peace Prize to the professors Gerhard Bringmann (Würzburg) and Virima Mudogo (Kinshasa) and has thus honored them for their scientific achievements in the search for bioactive compounds and for their humanitarian merits for young academics in the Congo.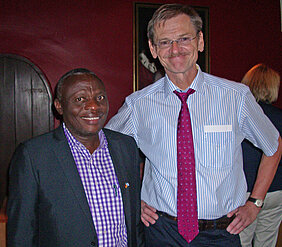 The professors Virima Mudogo (left) and Gerhard Bringmann jointly received the Gusi Peace Prize. (Photo: Thomas Waldner)
During a solemn ceremony in the Philippine International Convention Center in Manila on November 26th 2014, Bringmann and Mudogo and 12 further persons from the fields of politics, science, economy, and art received the award. About 2,000 high‐ranking guests from all parts of public life attended the award ceremony. Due to a disease of Bringmann, Mudogo received the prize for both scientists.
About the Two Awardees
Gerhard Bringmann has been holding the Chair of Organic Chemistry I of the University of Würzburg since 1987. Since 2003 he has been the coordinator of the interdisciplinary research network SFB 630 "Recognition, Preparation, and Functional Analysis of Agents against Infectious Diseases". Between 2006 and 2009 he was the foundation speaker of the "Africa Circle at the University of Würzburg" (today: "Forum Africa Center"); between 2002 and 2014 he chaired the Program Committee of the Irseer Naturstoff‐Tage.
Bringmann's work in research and teaching has been honored by numerous prizes. In 1999, he obtained the Award for Good Teaching of the Free State of Bavaria. In 2006, he received the Adolf‐Windaus Medal for Natural Products Research and in 2007 the Paul‐J.‐Scheuer Award for Marine Biotechnology. Since 2008 he has been an honorary professor at Peking University and since 2012 at Jinan University in Guangzhou (China). Three Congolese universities awarded him honorary doctorates between 2006 and 2012. In 2012, he was admitted to the European Academy of Sciences and Arts, in 2014 to the African Academy of Sciences. His scientific work is documented in circa 700 publications and patents.
Virima Mudogo was born in the province of North Kivu in the East of the Congo. He studied chemistry at the University of Kinshasa, where he finished his bachelor in 1979 and became an assistant at the Faculty of Natural Sciences. From 1982 he studied in Würzburg, supported by a scholarship of the German Academic Exchange Service (DAAD), where he did his PhD in 1988. He then became an associate professor at the University of Kinshasa and a full professor in 2004. Between 2005 and 2009 he was the Vice President of the University of Kinshasa. During this time, the first cooperation agreement between the University of Kinshasa and the University of Würzburg was signed.
Virima Mudogo likewise obtained several prizes for his scientific and humanitarian achievements, among them the Congo Higher Education Scientific Award (2010), the honorary doctorate of the Université Officielle de Ruwenzori in the Congo (2012), and, together with Bringmann, the Congolese Medal Cross First Class in Gold of the Congolese People (2012).
Search for Bioactive Compounds against Neglected Diseases
The reason why the two professors have now again been honored together is that they approached ‐ and achieved – many joint goals. Their collaboration started more than 20 ago with the search for medicinally interesting bioactive compounds from tropical plants. Today, they pursue these investigations within the research network SFB 630 ("Agents against Infectious Diseases"). From this work, numerous publications in high‐ranking journals resulted – and the first German‐Congolese patent. They even discovered a new plant species in the Congo, which they named Ancistrocladus ileboensis, after the place of its discovery near the Congolese town of Ilebo.
The Scholarship Program BEBUC as a Driving Force for Peace
Based on this shared scientific work, they initiated a probably worldwide unique excellence scholarship program, BEBUC, by which they want to give to the Congo a new generation of outstanding new professors. Since its begin in 2008, this scholarship program has successfully further developed, and today it supports excellent young Congolese at 16 universities during their bachelor, master, or PhD studies or during their return to the Congo. In particular for the support of girls, further young talents from two primary schools and six high schools are being supported – altogether more than 150 scholars.
"We are happy that we are being jointly awarded, since all this could have never been achieved by one of us alone. And meanwhile we are no longer alone, but are supported by a strong and competent team", Bringmann and Mudogo say.
The scholarship program shall help young people to make their dreams come true: to perform their studies rapidly and in depth, to deepen their studies abroad, and to return to the Congo in order to pass their knowledge to young people – and at the same time to help their country to recover. Thus, the scholarship program is also a driving force for peace in this difficult country. With this concept, Bringmann's motto Bila elimu hakuna maendeleo na amani fits well. It is Swahili and means: Without education, no welfare and peace.
About the Gusi Peace Prize
Since 2002, the Gusi Foundation, established by its chairman Barry Gusi, has been awarding the prize every year in a solemn ceremony. Bringmann is the fourth German being awarded, Virima Mudogo is even the first Congolese to win the prize. Among the other awardees, there are high‐ranking statesmen like Vytautas Landsbergis, the former President of Lithuania, but also scientific collaboration partners of Bringmann and Mudogo, like Professor Yoshinori Asakawa from Japan and Professor Kazimierz Glowniak from Poland.
"We take this award as an encouragement not only to continue our infection research but also to further develop the scholarship program. And we are delighted that, together with us, all those are honored who support us in this project, especially the foundation Else‐Kröner‐Fresenius‐Stiftung", Bringmann and Mudogo explained.
Contact
Prof. Dr. Dr. h.c. mult. Gerhard Bringmann
Institute for Organic Chemistry at the University of Würzburg,
T +49 (0)931 31‐85323, bringman@chemie.uni‐wuerzburg.de
Prof. Dr. Dr. h.c. Virima Mudogo
Université de Kinshasa, Faculté des Sciences,
T +243 99 99 30 963, mudogov@gmail.com
Additional images