Fulbright-Cottrell Award for Ann-Christin Pöppler
06/18/2020
For her project "Complementary Tools for the Characterization of Complex Solid Materials" Ann-Christin Pöppler received one of the two prestigious Fulbright-Cottrell Awards 2020.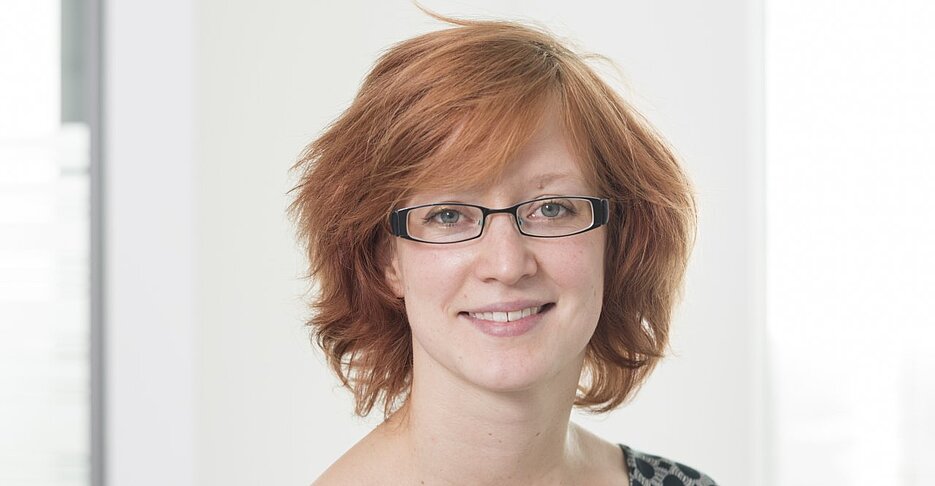 Prof. Ann-Christin Pöppler, 2020 Fulbright-Cottrell Award Laureate (Picture: Ingo Peters)
Ann-Christin Pöppler, who joined the Institute of Organic Chemistry in October 2016 as Junior Professor for Organic Structural Chemistry, received the prestigious Fulbright-Cottrell Award 2020 by the German-American Fulbright Commission. This award for researcher-educators in the fields of chemistry, physics and astronomy is given for a 3-year project, which should combine pioneering research with creative teaching. It supports teacher-scholars who are recognized by their scientific communities on both sides of the Atlantic for the quality and innovation of their research programs and academic leadership skills. The formal recognition during an award ceremony was postponed to spring 2021.
Ann-Christin's combined teaching/research project focusses on "Complementary Tools for the Characterization of Complex Solid Materials" and will be funded with 63,000 € over the next three years. Most importantly, the project involves the design and execution of a new course at the Chemistry Master's level, which will start to run for the first time in the summer term 2021. In this course, the participants will not only learn the theoretical fundament of several analytical tools in the solid state, but also gain hands-on experience, participate in skype lectures by international experts and use the newly acquired skills for a first attempt on science communication.
"I'm very excited about this new course and grateful for the generous support from the Fulbright Commission. It will be really great to be part of the transatlantic Fulbright-Cottrell Scholar network.", says Ann-Christin Pöppler.
The German-American Fulbright Commission in Berlin has been supporting students and early career researcher via multiple actions and for many years. Since 2016, the commission also recognizes two young academics per year with the Fulbright-Cottrell Award. In the context that many funding programmes focus on excellence in research, while teaching is an important part of our academic life yet mostly seen as duty, the award puts the role of active and engaged "teaching-scholars" in the centre. Through the funding, the yearly professional development workshops and interactions across the transatlantic scientific communities, the commission wants to support young academics to develop current and future projects, and pave careers as international scientists.
The second award recipient is Dr. Günther Thiele, a junior research group leader at Frei Universität Berlin, who applied for the project "Structural Chemistry 2.0: Augmented Reality meets Solid State Research."
The official award posting can be found through the following link:
https://www.fulbright.de/news/program-news/article/congratulations-to-our-two-2020-fulbright-cottrell-award-laureates
Contact
Prof. Dr. Ann-Christin Pöppler, Institut für Organische Chemie, T: +49 931 31-85620, ann-christin.poeppler@uni-wuerzburg.de