FGMR 2022 - Conference in Karlsruhe/Germany
09/12/2022
FGMR 2022 - Conference in Karlsruhe/Germany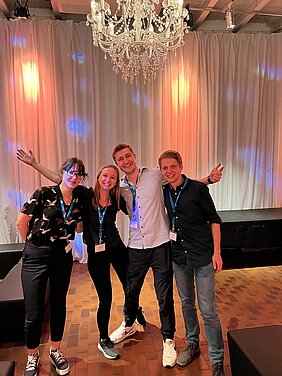 The annual meeting FGMR 2022 (Fachgruppe Magnetresonanz from the GdCh) took place in Karlsruhe/Germany (https://veranstaltungen.gdch.de/tms/frontend/index.cfm?l=11011&modus=/) .
We enjoyed 4 days of talks and poster sessions covering topics from NMR, EPR and related topics like energy, sustainability, legal affairs and mobility and presented four posters about our own research! Furthermore, we joined the guided city tour and the conference dinner!
Thanks to all the people we met and see again, thanks for the knowledge sharing and personal discussions about science and beyond that!
After the conference we stayed for one more day in Karlsruhe and explored the city and went to a boulder hall!
Additional images
Back