Two Million Euros for Infection Research
03/03/2014
Viruses, bacteria, and other pathogens trigger changes to cell membranes in humans in the event of an infection. What exactly happens there will be investigated by a new research group at the universities of Würzburg and Duisburg-Essen. The faculty of chemistry and pharmacy is represented with the group of Prof. Dr. Jürgen Seibel, Institute of Organic Chemistry. The research cluster will receive around two million euros for their work.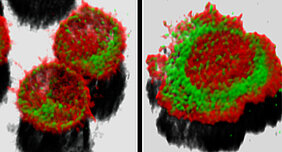 Pathogens change cell membranes in people: the three-dimensional reconstructions show T lymphocytes (left – dormant; right – activated by pathogens) with the cytoskeleton made of actin (red) and with "decapitated" sphingolipids (green). (Images: Nora Müller)
Contacts between pathogens and human cell membranes play a major role in an infection: the viruses or bacteria dock to special receptor proteins there. In so doing, they trigger processes that enable them to penetrate the cell, among other things. But the immune system's defensive reactions, such as the activation of T cells, are also controlled by these processes.
The receptors often sit in well-defined regions of the cell membrane, where particularly large numbers of sphingolipid molecules are gathered. Simply put, these molecules consist of a head and tail. "If pathogens dock there, an enzyme is activated that decapitates the sphingolipids, creating ceramides," explains virology professor Sibylle Schneider-Schaulies from the University of Würzburg. This then results in further changes to the membrane.
It is precisely these membrane changes that will receive the attention of a new research group approved by the German Research Foundation (DFG) in early December. "We intend to make the changes visible and to observe them," says the Würzburg virologist: "If we can understand their importance to the disease process, it might be possible to produce new treatments."
The research group will focus on the following pathogens: measles viruses, meningococci (pathogens that cause meningitis, among other diseases), mycobacteria (tuberculosis), and gonococci (gonorrhea).
Facts about the new research group
Sibylle Schneider-Schaulies is the spokesperson for the new group ("Sphingolipid Dynamics in Infection Control"). It has brought together research teams from the universities of Würzburg and Duisburg-Essen. The DFG will provide the project with around two million euros in funding over the next three years; much of this money will be used to finance doctoral positions.
From the Institute of Molecular Biology at the University of Duisburg-Essen, the teams led by Heike Grassmé and Professor Erich Gulbins are involved, with the latter also acting as the deputy spokesperson for the research group.
Joining them from the University of Würzburg's Institute of Virology and Immunobiology are Niklas Beyersdorf, Nora Müller, Jürgen Schneider-Schaulies, and Sibylle Schneider-Schaulies. Also involved are the Würzburg scientists Thomas Rudel (Microbiology/Biocenter), Markus Sauer (Biotechnology and Biophysics/Biocenter), Alexandra Schubert-Unkmeir (Hygiene and Microbiology), and Jürgen Seibel (Organic Chemistry).