Royal Society of Chemistry Honours Frank Würthner
05/02/2016
Frank Würthner has been elected Fellow of the Royal Society of Chemistry (FRSC), an honour that is given to a very small number of non-British RSC members.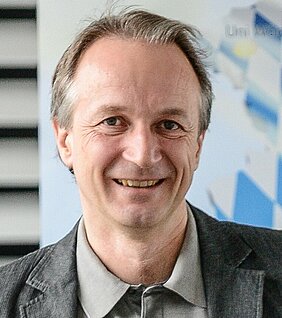 Prof. Dr. Frank Würthner FRSC
The Royal Society of Chemistry (RSC) is the oldest chemical society in the world and the largest European organization of chemists, with more than 50,000 members. But only the most distinguished members are nominated for being elected as Fellow, and, thus, few German chemists are given that honour every year. They are entitled to use the designatory letters 'FRSC' after their names.
Frank Würthner, chair of Organic Chemistry II and director of the Center for Nanosystems Chemistry (CNC), is a leading chemist in the field of supramolecular organic materials for (opto-)electronic, photovoltaic and biomedical applications. He is one of the very few 'Highly Cited Researchers' at the University of Würzburg.