An Extraordinary Anniversary
05/13/2016
In the 1960s Siegfried Hünig, at that time director of the Chemical Institute, set the course for the great success that chemistry at the University of Würzburg would have later on. Numerous companions and guests of honour now celebrated his 95th birthday together with him.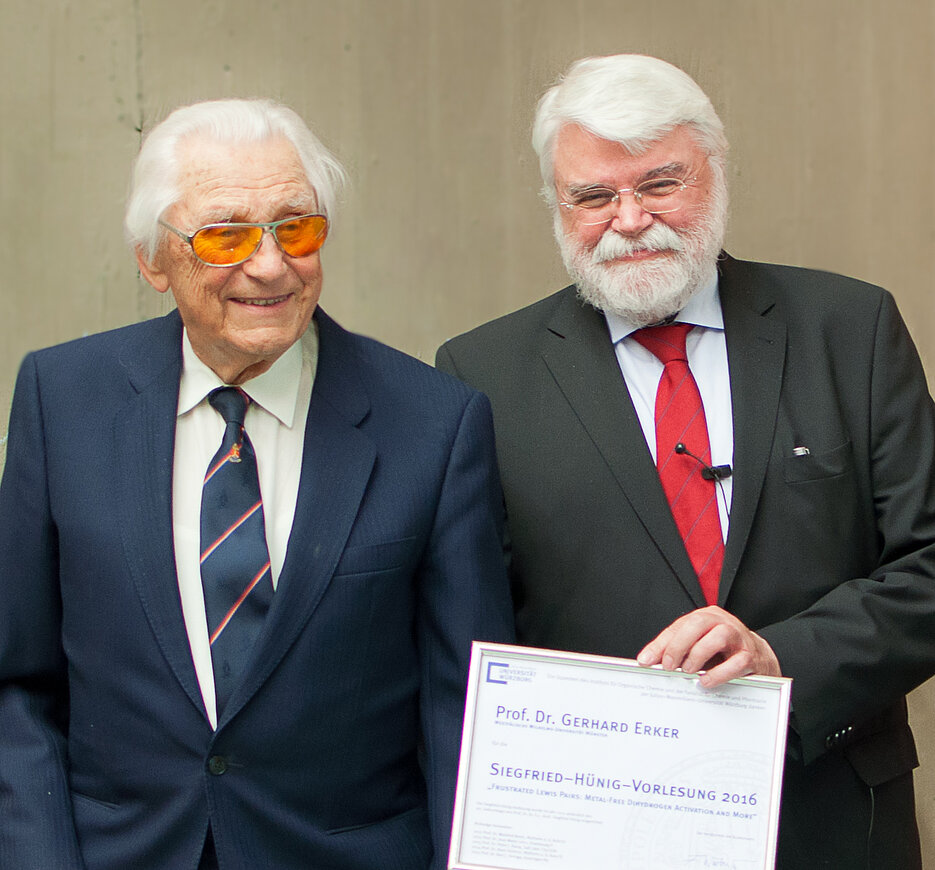 Prof. Siegfried Hünig and Prof. Gerhard Erker (photo: C. Stadler)
Lecture hall B at the Faculty of Chemistry and Pharmacy seldom houses so many guests from all over the country like on this Thursday. But the occasion was truly extraordinary. Siegfried Hünig was happy to celebrate his 95th birthday in April. Thus, this year's Siegfried Hünig Lecture was a particularly solemn ceremony.
Several speakers, among them the President of the University of Würzburg, Prof. Alfred Forchel, underlined Siegfried Hünig's great merits. As the founder of the chemistry centre at the Hubland Campus he was given the title 'Ehrensenator' (senator of honour) in 2011. Prof. Gerhard Erker from the University of Münster, long ago himself one of the most renowned German Chemists and awardee of the German Federal Cross of Merit, also was heaping praise of the excellent conditions at the Institute of Organic Chemistry when he started his career as a young professor. Siegfried Hünig had brought him to Würzburg in 1985.
'Frustrated Lewis Pairs: Metal-Free Dihydrogen Activation and More' was the title of the scientific talk held by Professor Erker, who was visibly happy about having been chosen for the Siegfried Hünig Lecture in the anniversary year.