PhD Defense of Martin Lambov
01/23/2023
Martin Lambov defended his PhD Thesis on January 20th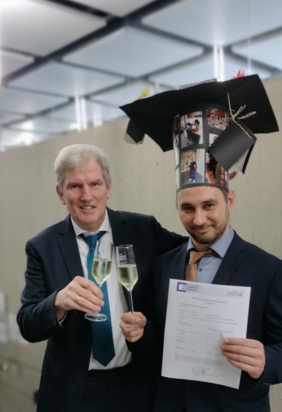 Prof. Matthias Lehmann und Dr. Martin Lambov.
Deutsch:
Martin verteitigte am 20.01.2023 seine Dissertation "Synthese und Struktur-Eigenschaftsbeziehungen neuartiger formtreuer Hybridsternmesogene". Wir gratulieren Martin ganz herzlich zu seinem erfolgreichen Abschluss der Promotion und wünschen ihm viel Erfolg in seiner zukünftigen beruflichen Laufbahn.

English:
Martin defended his PhD thesis "Synthesis and structure-property relationships of shape-persistent, star-shaped hybrid mesogens" on January 20th 2023. We congratulate Martin for his succesful dissertation and we wish him a successful future carreer.