Ausschreibung Masterarbeit für die Fächer Chemie, Physik und Funktionswerkstoffe
11/05/2021
New Publication on Aluminum Alloys with Trace Elements
more
Influence of Impurities on the Electrical Conductivity of Paraffinic Model Oil
more
Neue Publikation - AK Luxenhofer (Loading dependent Structural Model of Polymeric Micelles)
09/20/2019
Loading dependent Structural Model of Polymeric Micelles Encapsulating Curcumin by Solid‐State NMR Spectroscopy
more
Neue Publikation - AK Luxenhofer (Ultra-High to Ultra-Low Drug-Loaded Micelles)
09/20/2019
Ultra-High to Ultra-Low Drug-Loaded Micelles: Probing Host–Guest Interactions by Fluorescence Spectroscopy
more
Neue Publikation - AK Luxenhofer (Like Dissolves Like?)
09/20/2019
Like Dissolves Like? A Comprehensive Evaluation of Partial Solubility Parameters to Predict Polymer–Drug Compatibility in Ultrahigh Drug-Loaded Polymer Micelles
more
Aktuelle Stellenausschreibung AK Kurth - Bachelorarbeit
06/19/2019
Stellenausschreibung studentische Hilfskräfte bzw. Tutor/-innen
10/10/2018
Neue Publikation aus dem AK Luxenhofer: Mehr Details zu Struktur-Eigenschafts Beziehungen zwischen Wirkstoffen und Polymeren
06/05/2018
Zuwachs für Forschungsbereich Gesundheit am Fraunhofer ISC
01/09/2018
Das Fraunhofer-Institut für Silicatforschung ISC in Würzburg baut seine Forschung und Entwicklung im Bereich der Material- und Verfahrensentwicklung für Gesundheit, Medizinprodukte und zellbasierte regenerative Therapien stark aus.
more
Zusammenarbeit von Fraunhofer und Universität in Würzburg bringt Medizinforschung voran
01/09/2018
Zum 1. Dezember 2017 ging in Würzburg das Forschungsprojekt »Prototypische Materialentwicklung für Stammzellanwendungen in Bioreaktoren« der Fraunhofer-Gesellschaft an den Start. Das von den beiden Fraunhofer-Instituten für Silicatforschung ISC und für Biomedizinische Technik IBMT initiierte und gemeinsam betriebene Projekt ist der Auftakt zum Aufbau einer Stammzellprozesstechnik in Würzburg und soll im weiteren Verlauf zu einem Projektzentrum weiterentwickelt werden. Dieses soll mittelfristig die Lücke zwischen der Entwicklung und Herstellung individualisierter Testsysteme für Wirkstoffe im Labor und dem technischen Einsatz in der Pharmaentwicklung durch die Entwicklung automatisierter Zellproduktionsabläufe in Verbindung mit innovativen Materialien schließen. Damit wird das Testen von Wirkstoffen bei der industriellen Entwicklung neuer Arzneimittel revolutioniert.
more
A thermogelling supramolecular hydrogel with sponge-like morphology as cytocompatible bioink
09/13/2017
ABSTRACT: Biocompatible polymers that form thermoreversible supramolecular hydrogels have gained great interest in biomaterials research and tissue engineering. When favorable rheological properties are achieved at the same time, they are particularly promising candidates as material that allow for the printing of cells, so called bioinks. We synthesized a novel thermogelling block copolymer and investigated the rheological properties of its aqueous solution by viscosimetry and rheology. The polymers undergo thermogelation between room temperature and body temperature, form transparent hydrogels of surprisingly high strength (G` > 1000 Pa) and show rapid and complete shear recovery after stress. Small angle neutron scattering suggests an unusual bicontinuous sponge-like gel network. Excellent cytocompatibility was demonstrated with NIH 3T3 fibroblasts, which were incorporated and bioplotted into predefined 3D hydrogel structures without significant loss of viability. The developed materials encompass fulfill all criteria for the future use as bioink for biofabrication.
more
Pressemitteilung vom 1. August 2017
08/01/2017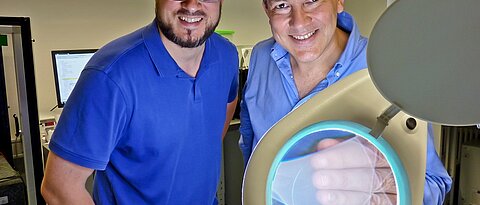 Stellenausschreibung studentische Hilfskräfte bzw. Tutor/-innen
07/07/2017