Dr. Schöppler completed his PhD in 2012 and ever since has tried to make the study of physical chemistry as meaningful and enjoyable as possible. In addition to his enthusiasm for teaching, including chemistry didactic studies, he focuses on helping PhD, Master, Bachelor and internship students with everyday problems in the lab or with the analysis of their data. His expertise is focussed on fluorescence and Raman microscopy and spectroscopy.
Klaus completed his PhD in the group in October 2019 and has continued as postdoc. Currently, he leads efforts on the spectroscopic investigations of doped low-dimensional semiconductors.
Room: 116
Phone*: 88969
E-Mail: klaus.eckstein@uni-wuerzburg.de
Martina Wederhake
Martina joined the group for her master thesis in January 2019. For her PhD she investigates the functionalization of carbon nanotubes and in her spare time likes to bake.
---
Maximilian Elfert
Maximilian joined the group in March 2020 for his Master thesis and stayed for his PhD. He works on ultrafast spectroscopy of 2D semiconductors and enjoys playing the piano in his free time.
---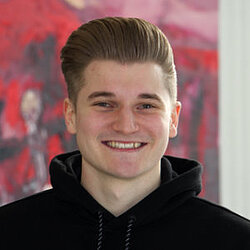 Patrick Grenzer
Patrick joined the group for his master thesis in April 2020 and presently continues with his PhD research on the two-dimensional photophysics of exfoliated organic-inorganic perovskites. His spare time is all about playing soccer and doing other sports.
---
Daniel Müller
Daniel's PhD thesis involves spectroscopic investigations of doped and functionalized carbon nanotubes. He spends his free time doing sports, especially table tennis.
---
Heiko Lackinger
Heiko joined the group for his master thesis in June 2021. His PhD research is focused on temperature dependend ultrafast spectroscopy of doped carbon based nanomaterials. He is also a connoisseur and enjoyer of various (small) sports such as football, teqball and many others.
Florian Oberndorfer (PhD Student)
Markus Voelckel (PhD Student)
Pascal Kunkel (PhD Student)
Julian Kütt (Master)
Kerstin Müller (PhD Student)
Melanie Achsnich (PhD Student)
Matthias Kastner (PhD Student)
Imge Namal (PhD Student)
Han Li (PhD Student)
Daniel Schilling (PhD Student)
Holger Hartleb (PhD Student)
Tilman Hain (PhD Student)
Florian Späth (PhD Student)
Nicolas Rühl (PhD Student)
Christoph Mann (PhD Student)
Frank Brunecker (PhD Student)
Felix Bergler (PhD Student)
Christian Loi (Bachelor Chemistry)
Severin Groha (Bachelor Chemistry)
Ivonne Vollert (Bachelor Chemistry)
Sanja Novak (Erasmus student)
Steffen Link (Lehramt Gym)
Pascal Kunkel (Bachelor Chemistry)
Matthias Klein (Bachelor Chemistry)
Florian Oberndorfer (Bachelor Chemistry)
Jirco Schuster (Bachelor Chemistry)
M. Wolfram Nahrath (Bachelor Chemistry)
Kathrin Arnold (Bachelor Chemistry)
Jochen Fitzner (Bachelor TecFun)
Timo Hefner (PhD Student)
Jinbo Pang (PhD Student)
Caroline Rider-Dobson (Master Chemistry)
Kristin Kröker (PhD Student)
Thomas Stocker (Diplomand)
Andreas Muzha (Diplomand)
Stefan Kupka (Diplomand)
Dominik Stich (PhD Student)
Verena Kleiner (Master TecFun)
Frederik Knigge (Diplomand)
Markus Lototchi (Internship)
Jared Crochet (PhD Student, Postdoc)
Lars-Hendrik Daus Bachelor
Wahid H. Tabatabai (Internship)
Michael Hailmann (Internship)
Philipp Maier (Internship)
Sabine Himmelein (Diplomandin)
Thomas Ackermann (Diplomand)
Felix Neubauer (Bachelor TecFun)
Johannes Brand (Internship)
Zarah Chown (Internship)
Francesco Bonacorso (Summer student)
Katharina Müller (Summer student)
Zipeng Zhu (PhD Student)
Nittin Chaturvedi (Master Chemistry)
Matthew McGrath (Internship)
Clayborne McPheeters (Summer student)
Michael Clemens (Summer student)
Pradhan Subechhya (Summer student)
Roman Fasel (Postdoc)
Hendrik Ulbricht (PhD Student, Postdoc)
Nesibe Cindir (Summer student)
Axel Hagen (PhD Student)
Gunnar Moos (PhD Student)
Renju Zacharia (PhD Student)
Physical Chemists with expertise in colloidal chemistry, advanced spectroscopy, nanomaterials and electrochemistry are highly sought after experts for a wide variety of companies operating in different industries and business sectors. Here is a brief overview of companies where our most recent graduates have found employment (on average within less than half a year after the defense of their PhD).
---
* For calls from outside of the University please start by dialing +49 931 31.
How to reach the Institute of Physical and Theoretical Chemistry