Summer School on "Nucleic Acid Chemistry and Synthetic Biology"
08/05/2019
Starting from the 28th of July the international Summer School on "Nucleic Acid Chemistry and Synthetic Biology" of the Faculty of Chemistry and Pharmacy at the Julius-Maximilians-University Würzburg took place. The summer school was conducted under the direction of Professor Claudia Höbartner, Chair of Organic Chemistry I and was held for 6 days until the 2nd of August.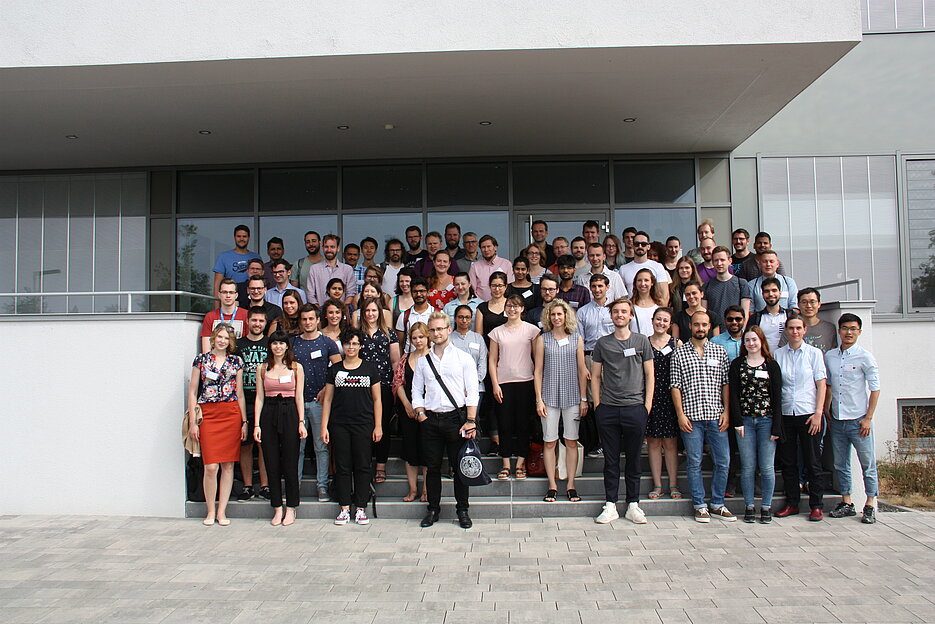 7 international speakers and 5 local speakers contributed to the diverse scientific program and great success of the six-day event. In total a number of 63 participating students - including 50 students from all over the world - had the opportunity to present and discuss their own scientific work as part of a poster presentation or in the form of short presentations. The field of participants was very varied: from students who are just finishing their bachelor's degree to post-doctoral students.
The lectures of the renowned speakers provided fascinating insights into the fundamentals of the fascinating world of nucleic acid chemistry and synthetic biology on all event days. These ranged from structural elucidation of DNA and RNA in solution to bioorthogonal synthesis to CRISPR biology and technologies to name just three of the various topics. Also, an insight into the technology of DNA / RNA synthesizers by the company K & A could be given.
In addition to the very broad scientific program, the organizational team offered various social activities in which the participants could network and get to know Würzburg better with its university.
The conclusion of the event is very positive: The participants of this year's summer school have experienced six intensive days for scientific and personal exchange. The summer school was the ideal way to expand their own contacts and network.
Special thanks go to the Federal Ministry of Education and Research, which has provided the funds for this summer school and has enabled us a scientifically very diverse and interesting program.

Contact:
Daniel Bellinger, Office of the Dean of Studies of the Faculty of Chemistry and Pharmacy, T +49 931 31-81813, daniel.bellinger@uni-wuerzburg.de

More photos, program and information:
https://www.chemie.uni-wuerzburg.de/internationales/studieren-in-wuerzburg-incoming/summer-schools/


All photos: Image Rights Uni Würzburg
Additional images