Mehrfache Auszeichnungen für AK Brixner
07/31/2018
Publikationen und Präsentationen aus dem Arbeitskreis von Professor Tobias Brixner wurden zuletzt mehrfach ausgezeichnet.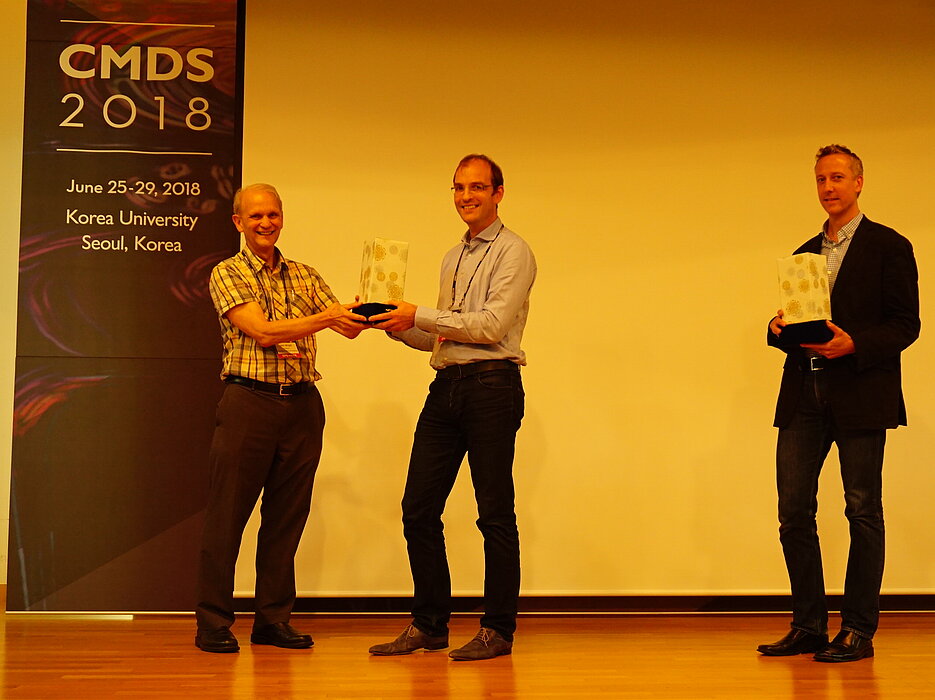 Prof. John Wright (links) von der University of Wisconsin und Vorsitzender des Internationalen Organisationskomitees der CMDS überreicht den "Best Presentation Award" an Prof. Tobias Brixner (Universität Würzburg, Mitte) und Prof. Kevin Kubarych (University of Michigan, rechts).
Im Rahmen eines "Consolidator Grant" des "European Research Council" (ERC) entwickelt die Arbeitsgruppe von Professor Tobias Brixner an der Universität Würzburg neue Methoden der kohärenten multidimensionalen Spektroskopie und wendet sie an, um die ultraschnelle Dynamik von Molekülen und molekularen Komplexen in verschiedenen Aggregatszuständen zu studieren und zu vergleichen. Heute wurde die in der Zeitschrift Nature Communications mit dem Titel "Direct observation of exciton–exciton interactions" erschienene Publikation von Jakub Dostál et al. (siehe separate Pressemitteilung) als "Editors' Highlight" ausgezeichnet (https://www.nature.com/collections/wtpqpqpgwd). In dieser Kategorie werden solche Artikel hervorgehoben, die die Editoren für besonders interessant oder wichtig erachten.
Erst vor kurzem präsentierte Brixner die Ergebnisse bei der internationalen Tagung "The 9th International Conference on Coherent Multidimensional Spectroscopy (CMDS)", die von 25. bis 29. Juni 2018 in Seoul (Südkorea) stattfand. Sein Vortrag zum Thema "MULTISCOPE: Multidimensional Ultrafast Time-Interferometric Spectroscopy of Coherent Phenomena in all Environments" wurde auf der Konferenz mit dem "Best Presentation Award" ausgezeichnet. Insgesamt enthielt das Programm 51 Vorträge und zahlreiche Poster. Der Preis wurde vom Vorsitzenden des internationalen Organisationskomitees, Professor John Wright von der University of Wisconsin (USA), am Ende der Tagung überreicht.
Daniel Fersch, Doktorand am Lehrstuhl und Mitarbeiter im ERC-Projekt, erhielt ebenfalls einen ersten Preis für den besten Vortrag auf der "Summer School for Plasmonics and Nano-Optics (Plasmonica 2018)", die von 15. bis 18. Juni 2018 in Cetraro (Italien) stattfand. Dort berichtete Fersch über sein Promotionsthema "Plasmonic Fluorescence Enhancement in Cyanobacterial Photosystem I".
Additional images