Master in Chemistry (120 ECTS-Punkte)
The master's degree in chemistry builds on the bachelor's degree in terms of content, but is more research-oriented and concludes with the degree "Master of Science."
The programme duration, including all exams and the master's thesis, is four semesters. A total of 120 ECTS credits are needed in order to complete the master's degree. It is possible to start the programme in either summer or winter semester.
As part of the master's programme here in Würzburg, you will choose three from our nine focuses in which to specialize. At least two of these must come from the core subjects: inorganic, organic and physical chemistry. You do not have to choose the focuses at the beginning of your studies, you will rather indicate which you have taken when you apply for your certificate. As many courses count toward multiple focus subjects, you have the option to decide on your focuses later in your studies. In addition to subject specific courses, you will need to complete 15 ECTS credits in supplementary subjects as part of your master's degree.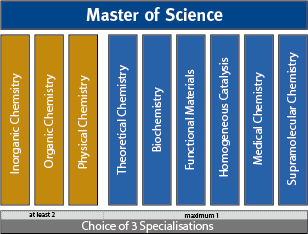 Documents on the individual versions of the Examination Regulations (PO)
PO 2021 (Programme Start as of Winter Semester 2021/22)

PO 2018 (Programme Start as of Winter Semester 2018/19)

PO 2016 (Programme Start as of Summer Semester 2016)