SupraChem 2019 will be held in Würzburg!
08/10/2018
We are happy to announce that SupraChem 2019 will be held at University of Würzburg on February 24-26, 2019.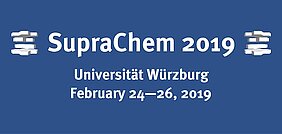 This national meeting will be the fifth conference of this biannual series that assembles all supramolecular chemists and other interested scientists from related fields from Germany (and our neighboring countries) for two days.
We are very pleased that with Prof. Andrew Cooper (University of Liverpool), Prof. Sir Fraser Stoddart (Northwestern University) and Prof. Vivian Yam (The University of Hong Kong), three outstanding and well-known scientists in the field of supramolecular chemistry and materials have accepted our invitations to present Keynote Lectures at this event.
As in previous years, attendance of the conference will be free of charge and registration is now open.
For further information and more details on the registration procedure, please visit our homepage at go.uniwue.de/suprachem2019 or contact us at suprachem2019@uni-wuerzburg.de.
We are looking forward to your participation in this stimulating meeting and hoping to welcome you in Würzburg in February 2019.
Yours sincerely,
Florian Beuerle and Frank Würthner
Conference Chairs